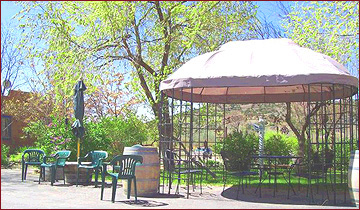 Black Mesa Winery

Imagine Feeling Rejuvenated and Refreshed!

Northern New Mexico ... The Rio Grande, the Rio Chama, Taos, Santa Fe, mountains, pinon trees... and grape vines! For more than 400 years grape vines have been grown along the Rio Grande from Velarde to Socorro and Belen. Black Mesa Winery in Velarde, half way between Taos and Santa Fe, grows Pinot Grigio, Syrah, Montepulciano, Albarino, Chardonnay, and Riesling grapes. In addition, the Velarde Valley produces Riesling, Merlot, Chardonnay, Cabernet Franc, Syrah, Baco Noire, and Leon Millot with more acres and varietals being planted every year.
Black Mesa Winery began producing wines in 1992 as the result of a long time dream of Dr. Gerhard and Connie Anderson. In 2000, Jerry and Lynda Burd purchased the winery and have carried on and expanded that dream to produce over 35 wines from grapes grown in Northern, Southern, and Central New Mexico. All wines produced are from New Mexico grapes. Black Mesa Winery selections include Cabernet Sauvignon, Sauvignon Blanc, Zinfandel, Barbera, Chardonnay, Malbec, Pinot Grigio, Montepulciano, Riesling, Pinot Noir, and Viognier. Many of the wines are blends, including the dry reds Coyote and Antelope, initially blended by the Andersons. Conejito White is a sweet blend of Riesling and Sauvignon Blanc. Mesa Rosa and Santa Fest are sweet rosé blends.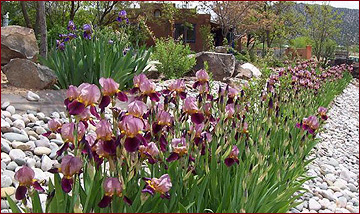 Unusual wines include both a red port and a white port, along with the most popular Black Beauty, a deep red, chocolate flavored dessert wine and Chocolate Caliente, a chocolate wine with just a touch of chile. There is also a late-harvest dessert wine, Cosecha Ultima, made from all Northern New Mexico grapes picked in mid-November each year. All the wines are produced at the winery and are bottled and cellared in buildings adjacent to the Tasting Room. Black Mesa Winery welcomes guests year-round at their scenic Northern New Mexico estate on the NM Highway 68, the main highway between Santa Fe and Taos (El Camino Real), also known as the Low road to Taos. You can tour the winery by calling 24 hours in advance and setting up a time. Week days are best.
Sparkling Hard Cider

Beginning in August, 2017, Black Mesa Winery started producing hard cider from the apples of northern New Mexico. Some were picked by the winery staff, but most were purchased from neighbors along the Rio Grande and its tributaries. The apples were crushed and pressed, with the sweet apple juice fermented into cider. The result was 1500 gallons of sparkling hard cider. The Black Mesa signature style is drawn from the New World cider tradition of low tannins and higher acidity. High elevation fruit (5800+ feet) provides the perfect juice to create world class artisanal cider of this style. Both modern and traditional methods are incorporated into the process, allowing some native microflora. When utilizing cultured yeasts, only naturally selected and traditionally bred organic yeasts are used. This artisanal cider features mouthwatering acidity from the northern New Mexico apples with a fruity, crisp, bright finish.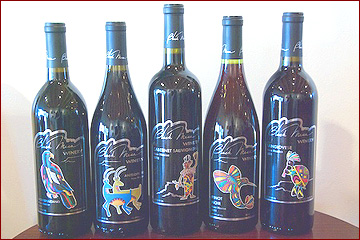 Petroglyphs

There are estimated to be over 100,000 petroglyphs north of Espanola in the Velarde Valley and on Black Mesa – the largest petroglyph collection in New Mexico. At Black Mesa Winery there are more than 75 sites of rock art displaying over 300 images made over 7000 years. The 'glyphs were located and documented by the Mesa Prieta Petroglyph Project. Eight of these sites are on a self-guided trail directly behind the winery buildings. Each site is identified by a kokopeli marker and a small rock of quartz on the petroglyph rock itself. The trail begins and ends in the vineyards of Black Mesa Winery. There are places to look over the winery into the Rio Grande, or sit and enjoy a glass of wine or sparkling hard cider.

The Labyrinth at Black Mesa Winery

A way to relax the body. A way to relax the mind. The labyrinth above the winery is a place to walk, meditate, and take some deep breaths while you enjoy the surrounding mesas, arroyos, mountains, and views of the river. Whether you're on vacation or just a mini staycation or just need to get away for a few minutes, the labyrinth can help. Clear your mind. Focus back on life. And Solo, the cat, may even join you!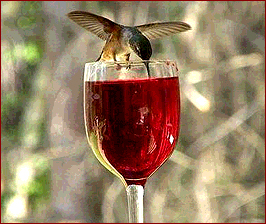 Hummingbirds

Each year, beginning in April, the hummingbirds come to winery feeders. The early ones are usually on their way to Colorado and other points north. By mid-summer the five feeders are filled once or twice each day. It is estimates that more than 200 of these little birds frequent the Black Mesa feeders. Nests are often found in the vineyards and the trees around the winery. The most common hummingbirds seen are the Black-chinned, the Broad-tailed, and the Rufous Hummingbirds. There are several others varieties depending on the time of the year and their migratory patterns.
Cool Hummingbird Facts
:
• A hummingbird's brain is 4.2% of it's body weight -- the largest proportion in the bird world.
• A hummingbird's heart can beat up to 1,260 times per minute.
• Most hummingbirds die in their first year, but those that survive can live between five and ten years.