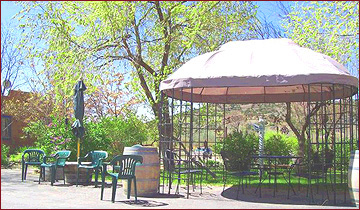 Black Mesa Winery & Taos Tasting Room

Imagine feeling rejuvenated and refreshed!

Northern New Mexico ... The Rio Grande, the Rio Chama, Taos, Santa Fe, mountains, pinon trees... and grape vines! For more than 400 years grape vines have been grown along the Rio Grande from Velarde to Socorro and Belen. Black Mesa Winery in Velarde, half way between Taos and Sante Fe, produces Pinot Grigio, Syrah, Montepulciano, and Riesling grapes ... 25 wines from grapes grown in Northern, Central, and Southern New Mexico, Sauvignon, Sangiovese, Zinfandel, and Vermentino, semi-sweet sherry, Cosecha Ultima The Velarde Valley produces Riesling, Merlot, Chardonnay, Cabernet Franc, and Syrah with more acres and varietals being planted every year.
Black Mesa Winery began producing wines in 1992 as the result of a long time dream of Dr. Gerhard and Connie Anderson. In 2000, Jerry and Lynda Burd purchased the winery and have carried on and expanded that dream to produce over 25 wines from grapes grown in Northen and Central New Mexico. All wines produced are from New Mexico grapes. When asked about the large choice in wines in the Black Mesa Winery Tasting Room, Jerry says, "I can't make up my mind. I have a palate that enjoys many different wines and styles of wines and so do our customers."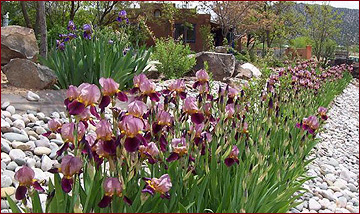 Along with the most popular Black Beauty, a deep red, chocolate flavored dessert wine, Black Mesa Winery selections include Cabernet Sauvignon, Sauvignon Blanc, Primitivo, Chardonnay, Malbec, Pinot Grigio, Montepulciano, Riesling, Pinot Noir, and Viognier. Many of the wines are blends, including the dry reds Coyote and Antelope, initially blended by the Andersons. Conejito White is a sweet blend of Riesling and Sauvignon Blanc. Mesa Rosa and Santa Fest are sweet rosé blends.
Unusual wines include both a red port and a white port, along with a dry sherry-style wine. There is also a late-harvest dessert wine, Cosech Ultima, made from all Northern New Mexico grapes picked in mid-November each year. All the wines are produced at the winery and are bottled and cellared in buildings adjacent to the Tasting Room. Black Mesa Winery welcomes guests year-round at their scenic Northern New Mexico estate on the main highway between Santa Fe and Taos (El Camino Real). You can tour the winery by calling 24 hours in advance and setting up a time. Week days are best.
Enjoy Black Mesa Wines in Taos!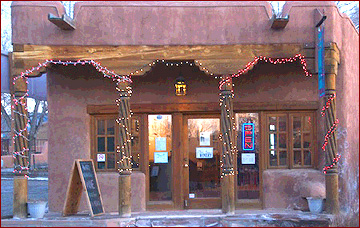 Visit the new Black Mesa Winery Tasting Room and Wine Bar in Taos! Just a block from the historic Taos Plaza, the Tasting Room is the place to unwind and enjoy the award-winning wines of Black Mesa Winery by the glass or bottle.
Pull up a chair and relax on the pet-friendly patio. The Black Mesa Tasting Room and Wine Bar offers small plates of premium cheeses from the Old Windmill Dairy or savory vegetable spreads from Caleb & Milo to go with your favorite Black Mesa wines. The Wine Bar also features free live music by local musicians every Tuesday, Friday and Saturday night.

A New Mexico Winery and the Realization of a Dream

"Once upon a dream.....at least that's what happened to Lynda and me. I needed a new career after 10 years as a minister in the Christian Church (Disciples of Christ). A very vivid dream one night seemed to indicate a vineyard and possibly wine (it helped that we were living in the Central Valley of California.) So, being the rational person that I am, I quit the ministry, found a job writing grants for a 3-county nonprofit and moved to the Willamette Valley in Oregon. Lynda joined me three months later, taking a job working for the Corvallis School District.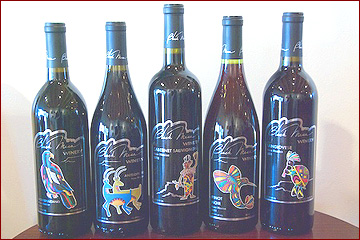 "On the weekends I volunteered at a small winery, Belle Fountain Cellars near Corvallis. After two years, I began to see that wine making was more attractive than grapevine growing. At the invitation of owner and winemaker Rob Mommsen, I began my journey in the challenging world of winemaking. At about the time that I had learned enough to be dangerous, Lynda and I were tired of the rain (being Colorado people at heart), and we both were ready for another change of life. I was about to embark upon my fifth career. I'd always told myself that I would always need to work, so I better find something that was fun, satisfying and challenging, and would hopefully pay the bills!
"As my 50th birthday approached, Lynda asked me how I wanted to mark that auspicious occassion. I remarked, tongue-in-cheek, 'I was hoping for a red 1963 Corvette and a 25 year old wife -- or we could buy a winery.' Lynda didn't even hesitate. She went for the winery. And she added that it would be nice if the winery were in New Mexico ... and around Santa Fe would be nice so she could be a part of the art community. I didn't have anything against that except that as far as I knew, New Mexico had no wineries ... two years later we became the proud owners of Black Mesa Winery in New Mexico, and people who could actually say that they are living their dream."
~Jerry Burd